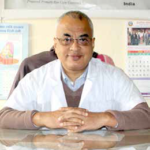 The dedicated teams of ninety nine staff members are trying hard to attract and serve more and more patients. These team members not only perform their best within the hospital, they also reach the unreached poor population in the remote villages.
Apart from patient care activities, the hospital also runs three years Ophthalmic Science course, provide ophthalmology training to undergraduate medical and nursing students and fellowship training to ophthalmologist in Vitreo- Retina and SICS. The hospital has already started post graduate residency program in ophthalmology with affiliation from National Academy of Medical Sciences (NAMS).
The hospital is in the present state due to the moral, technological & financial support from SEVA foundation & SEVA Canada Society. This has encouraged local social workers for making financial contribution in building construction & renovation as well as other physical facilities to prepare this hospital as an academic Institution. His Excellency the Ambassador of Pakistan provided first Phacoemulsification machine to this hospital & is a milestone for technological advancement. Further to this he made a visit to this hospital & again provided non contact- tonometer as well as financial assistance in new registration, optical and pharmacy building.
Our work would not have been possible without the support of NNJS, Chitwan specially Chairman Mr.Chija Kumar Maskey and Seva Foundation USA and Canada specially its representative Mr. Ram Prasad Kandel in Nepal.
My grateful thanks to Chairman Prof. Dr Tirtha Prasad Mishra and his team of Central NNJS for all the support & appreciations to all dedicated staffs, patients and those involved directly and indirectly.
Prof. Dr. Ragunandan Byanju
Chief Medical Director
Bharatpur Eye Hospital